There was the off-the-shelf product, now there is the on-the-shelf marketing.  An example combining several technics in a Customer-friendly and interactive way to get sales in a store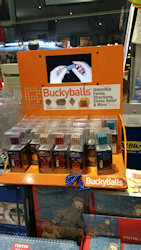 This example was found in a comic-books store.
The place in the shop does matter, in this case, it was placed near the cashier:
as a last-second complementary sell (gift or other) & to avoid competition with main products, ie comic-books
and likely to have a view on it continuously… well … to avoid the small test samples "disappearing"
The various aspects that make that work and look good:
the movie (in green below); the moving/animation is the catch for the Customer to pay attention. It consists of a close-up on fingers + the product only demonstrating the ease of use and the many possibilities for an object that could look too basic and limited otherwise; no voice or music that would make that very annoying and refused by the shop (read above on the place close to the cashier)
the branding (in red) is printed fully on labels twice + the main typeface punched once in the metal (to avoid the screen and the shelf being re-used for another brand?)
the argument (in pink) in big font
some pictures of shape examples: to show directly several possibilities without waiting for the video length (and if the video gets broken or no power?)
the playground (in orange); Customers can try the magnets themselves on the closest surface, ready to grab. Notice also the color of the sample: blue, to be will be very visible place on its opposite color being the orange
finally … a good place for the products themself (in yellow), using all the available width & about 50% of the total volume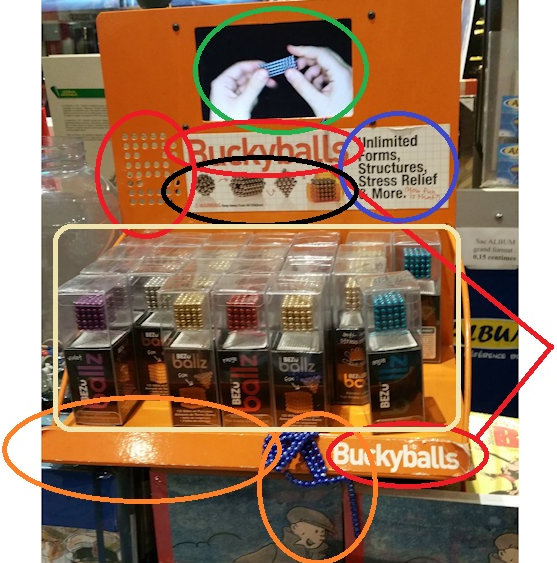 And a word about its design:
fully metal (& magnetic!)
2 main surfaces + side bars for rigidity & handling function
an additional bending in the front that both acts as a playground for the sample and hold the boxes on the other side
a now-standard video player screwed on the back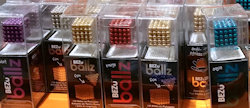 To be noticed that this product has been diversified in many color variants after its initial success 2-3 years ago. See article about successful products & variants.
A great job overall!
Other related examples
Click on the thumbnails below to zoom in full size: