"Forms Follow Function" is an old key design concept that started in architecture in the mid of the XX's. Modern product design, so as value analysis and ergonomics on one side, and modern CAD system ability to design almost any 3D shape and injection technics on the other, make that even more actual for mechanical designers. An extensive image gallery of design examples is proposed here.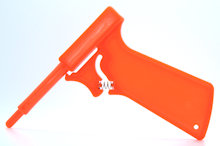 The "Forms follow Function" principle states that:
"the shape of a building or object should be primarily based upon its intended function or purpose." source: Wikipedia
It applies well in modern Product Design and even more in detailed part design and manufacturing and is the foundation of any Value Analysis.
The Forms Follow Function Principle Applied
The concept can be applied in several ways:
ergonomics: obtain a good physical product-human interaction from the part's shape (size, curves, weight)
ergonomics again: obtain a clear visual message or instruction from the shape itself. That leads to a better user experience and will decrease Instructions for Use, labels & markings
value analysis + lean: combine multiple parts into one. Have complex parts from the shape (without complicating the tools). Plastic injection, hot stamping, or metal injection (aluminum, MAZAC …) is often the key here. In each process, find your "designer-magician", the one that can make the best use of that technology while keeping tools simple.
value analysis + lean again: use the material properties (soft, flex, hard, spring, leak-tight ….). Or even choose the material with that criteria first
–> the TRIZ methodology or numerous Design articles are here to help with this
Examples Database
The gallery below shows good examples of these principles – be inspired for your next Forms Follow Function design: