Ralph Steiner's Mechanical Principles movie from 1930 is a brilliant way to get a fresh (!) reminder to your school time to get ideas to solve in an efficient way modern motion transmission or transformation.
Ready to be used as inspiration for your next design and mechanical challenges, not only in the traditional watch industry.
From Ralph Steiner's Mechanical Principles …
And if a picture is worth a thousand words, then what is the price of a video to show the kinematics principles?
Not only watch-industry related: whether you want to change speed, transform a rotation to a linear motion, or a continuous motion to some alternating or counting motion, you'll get ideas here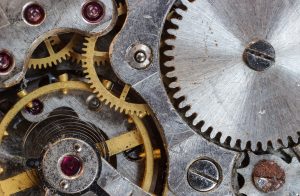 cam mechanisms
all kinds of cogwheels
maltese cross mechanisms
eccentrics mechanism
ratchet mechanisms
Reuleaux triangles mechanisms
gerotor gears
Thumbs up Ralph Steiner!
And their CAD-rendered versions
"Art of rendering" made a CAD modern version of these principles in 6 parts (and gives credit to Ralph Steiner) and even added more. Grab a coffee and enjoy:
Or a recent Lego implementation of some of the principles
… to Theo Jansen's Living Mechanisms
As our beloved Form Follows Function approach, Theo Jansen has brilliantly applied shape and simple principles (the principle is simple, and the application is extremely smart and complex). But let's have the kinetics principles of his walkers explained first:
And then applied to his living wind-powered creatures so-called Strandbeests (≈beach beasts):
More on Wikipedia or on a site dedicated to his movies and shows.